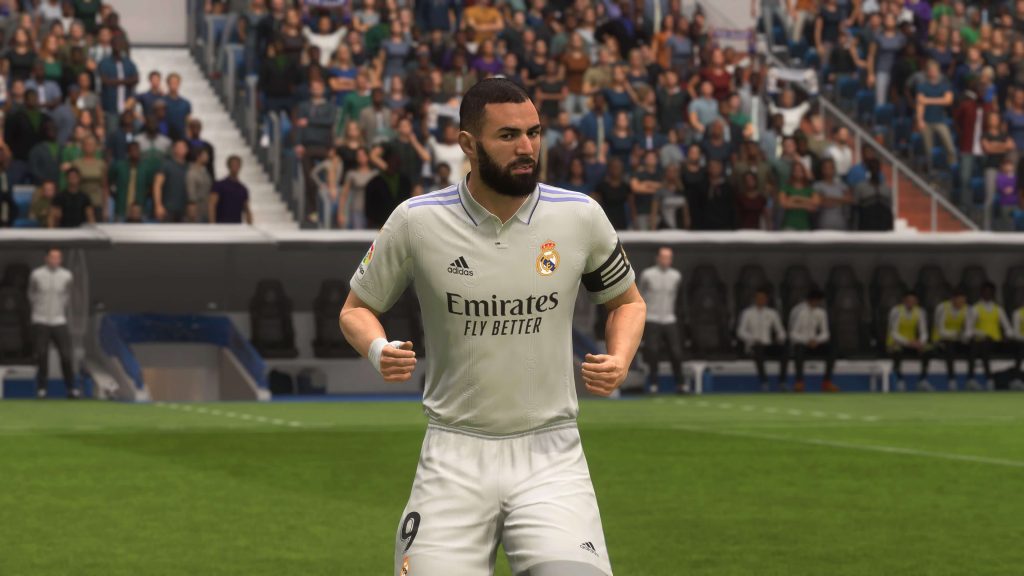 The Highest-rated Center Forward on FIFA 23
List of Top 100 Center Forwards in FIFA 23
A Center Forward (CF) is an offensive player who has the main role of attacking and scoring goals as a lone forward. This player is usually positioned in center of the attacking line.
Among the Center Forward on FIFA 23, Karim Benzema has the highest rating followed by Memphis Depay in second and Dries Mertens in third.
Below are the Top 100 Players whose Best Position is Center Forward on FIFA 23.
#
Player
OVA
POT
STATS
1.

91

91

2,143

2.

Memphis Depay

#14

CF

|

FC Barcelona

85

85

2,082

3.

Dries Mertens

#10

CF

|

Galatasaray SK

84

84

1,988

4.

W. Ben Yedder

#10

CF

|

AS Monaco

84

84

2,102

5.

Roberto Firmino

#9

CF

|

Liverpool

83

83

2,158

6.

Ángel Correa

#10

CF

|

Atlético de Madrid

83

83

2,146

7.

Anderson Talisca

#94

CF

|

Al Nassr

82

82

2,144

8.

Ricardo Horta

#21

CF

|

SC Braga

82

82

2,084

9.

A. Kramarić

#27

CF

|

TSG Hoffenheim

81

81

2,021

10.

R. Malinovskyi

#18

CF

|

Atalanta

80

80

2,198

11.

Luimo Boas Santos

#9

CF

|

Santos

79

79

1,907

12.

Romarinho

#90

CF

|

Al Ittihad

78

78

1,954

13.

João Pedro

#20

CF

|

Fenerbahçe SK

78

78

2,032

14.

Lucas Pérez

#15

CF

|

Cádiz CF

77

77

1,958

15.

76

76

1,901

16.

76

76

1,952

17.

76

76

1,920

18.

T. Tissoudali

#34

CF

|

KAA Gent

76

76

1,839

19.

Jesus Ferreira

#10

CF

|

FC Dallas

75

83

1,969

20.

75

75

2,044

21.

M. Philipp

#17

CF

|

VfL Wolfsburg

74

74

1,875

22.

74

74

1,805

23.

Wesley Saïd

#22

CF

|

Racing Club de Lens

73

73

1,800

24.

A. Jahanbakhsh

#7

CF

|

Feyenoord

73

73

1,972

25.

73

73

1,898

26.

Mirco Antenucci

#7

CF

|

Bari

73

73

1,827

27.

B. Verbič

#77

CF

|

Panathinaikos FC

72

72

1,895

28.

M. Maertens

#33

CF

|

Oud-Heverlee Leuven

72

72

1,946

29.

Gus Outomouro

#26

CF

|

Internacional

71

71

1,792

30.

71

71

1,918

31.

71

71

1,847

32.

Sargis Adamyan

#23

CF

|

1. FC Köln

71

71

1,816

33.

G. Sibilli

#17

CF

|

Pisa

70

73

1,768

34.

Robin Quaison

#99

CF

|

Ettifaq FC

70

70

1,855

35.

70

70

1,821

36.

70

70

1,741

37.

Oliver Berg

#20

CF

|

Kalmar FF

70

70

1,903

38.

L. Mancuso

#77

CF

|

Como

70

70

1,798

39.

Eltildo Bessa

#28

CF

|

Fortaleza

70

70

1,762

40.

Greg Stewart

#24

CF

|

Mumbai City FC

69

69

1,736

41.

A. Trajkovski

#7

CF

|

Al Fayha

69

69

1,759

42.

A. El Messaoudi

#23

CF

|

FC Emmen

69

69

1,884

43.

Eddie Salcedo

#14

CF

|

Bari

68

79

1,720

44.

68

68

1,807

45.

68

68

1,792

46.

Adrián López

#7

CF

|

Málaga CF

68

68

1,744

47.

68

68

1,768

48.

C. Chávez

#23

CF

|

Godoy Cruz

68

68

1,732

49.

67

67

1,661

50.

Lander Olaetxea

#19

CF

|

Albacete BP

67

67

1,837

51.

67

67

1,824

52.

C. Monschein

#7

CF

|

SV Ried

67

67

1,659

53.

Gilson Tavares

#29

CF

|

Estoril Praia

66

77

1,579

54.

Guarrotxena

#34

CF

|

FC Goa

66

66

1,856

55.

66

66

1,621

56.

Rasmus Jönsson

#10

CF

|

Helsingborgs IF

66

66

1,665

57.

Kevin Molino

#13

CF

|

Columbus Crew

66

66

1,782

58.

Caye Quintana

#10

CF

|

Śląsk Wrocław

65

65

1,660

59.

Tom Nichols

#9

CF

|

Crawley Town

64

64

1,682

60.

64

64

1,610

61.

64

64

1,689

62.

Nito Carbelho

#8

CF

|

Fluminense

64

64

1,655

63.

Marley Watkins

#15

CF

|

Aberdeen

64

64

1,653

64.

62

73

1,541

65.

62

62

1,638

66.

61

61

1,555

67.

61

61

1,623

68.

Adrien Perez

#16

CF

|

D.C. United

60

61

1,455

69.

M. Diongue

#17

CF

|

SC Bastia

60

60

1,675

70.

A. Rajamohan

#23

CF

|

Degerfors IF

58

58

1,513

71.

Zak Emmerson

#27

CF

|

Blackpool

56

75

1,345
Find a Player's FIFA Rating