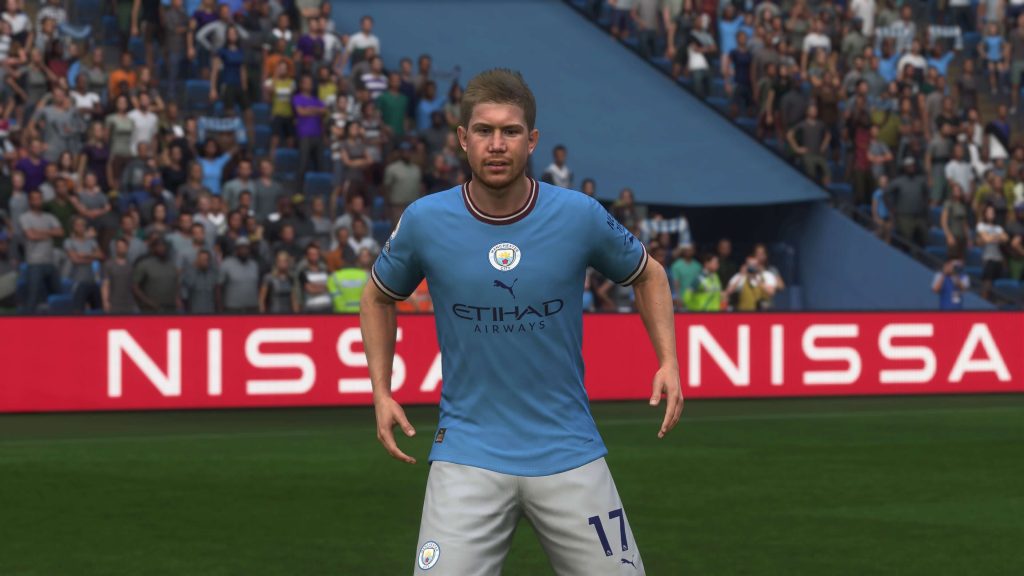 The Highest-rated Center Midfielder on FIFA 23
List of Top 100 Center Midfielders in FIFA 23
A Center Midfielder (CM) role must be divided in equal measure between defense and attack. Once the individual has possessed the ball, this player needs to find a way of passing the ball to the team's attacking forwards and midfielders.
Among the Center Midfielder on FIFA 23, Kevin De Bruyne has the highest rating followed by Toni Kroos in second and Luka Modrić in third.
Below are the Top 100 Players whose Best Position is Center Midfielder on FIFA 23.
#
Player
OVA
POT
STATS
1.

Kevin De Bruyne

#17

CM

|

Manchester City

91

91

2,299

2.

Toni Kroos

#8

CM

|

Real Madrid CF

88

88

2,147

3.

Luka Modrić

#10

CM

|

Real Madrid CF

88

88

2,258

4.

Frenkie de Jong

#21

CM

|

FC Barcelona

87

92

2,238

5.

87

87

2,190

6.

F. Valverde

#15

CM

|

Real Madrid CF

86

91

2,249

7.

86

86

2,305

8.

86

86

2,222

9.

S. Milinković-Savić

#21

CM

|

Lazio

86

86

2,250

10.

Parejo

#10

CM

|

Villarreal CF

86

86

2,177

11.

Pedri

#8

CM

|

FC Barcelona

85

92

2,119

12.

85

91

2,200

13.

T. Alexander-Arnold

#66

CM

|

Liverpool

85

88

2,221

14.

Nicolò Barella

#23

CM

|

Inter

85

88

2,292

15.

İ. Gündoğan

#8

CM

|

Manchester City

85

85

2,191

16.

84

87

2,201

17.

Paul Pogba

#10

CM

|

Juventus

84

84

2,167

18.

H. Çalhanoğlu

#20

CM

|

Inter

84

84

2,180

19.

Luis Alberto

#10

CM

|

Lazio

84

84

2,058

20.

84

84

2,117

21.

84

84

2,244

22.

I. Bennacer

#4

CM

|

AC Milan

83

87

2,224

23.

83

86

2,178

24.

Merino

#8

CM

|

Real Sociedad

83

86

2,259

25.

83

85

2,166

26.

C. Eriksen

#14

CM

|

Manchester United

83

83

2,025

27.

83

83

2,197

28.

M. Locatelli

#27

CM

|

Juventus

82

86

2,132

29.

82

85

2,167

30.

Fabián

#8

CM

|

Paris Saint-Germain

82

83

2,102

31.

Koke

#6

CM

|

Atlético de Madrid

82

82

2,176

32.

Mateo Kovačić

#8

CM

|

Chelsea

82

82

2,128

33.

Ivan Rakitić

#10

CM

|

Sevilla FC

82

82

2,120

34.

João Mário

#20

CM

|

SL Benfica

82

82

2,143

35.

S. Lobotka

#68

CM

|

Napoli

82

82

2,133

36.

Adrien Rabiot

#25

CM

|

Juventus

82

82

2,220

37.

Enzo Fernández

#13

CM

|

SL Benfica

81

88

2,177

38.

M. Arnold

#27

CM

|

VfL Wolfsburg

81

82

2,159

39.

81

81

2,186

40.

J. Ward-Prowse

#8

CM

|

Southampton

81

81

2,142

41.

81

81

2,118

42.

Mateus Uribe

#8

CM

|

FC Porto

81

81

2,191

43.

E. Palacios

#25

CM

|

Bayer 04 Leverkusen

80

85

2,106

44.

T. Koopmeiners

#7

CM

|

Atalanta

80

84

2,186

45.

O. Zinchenko

#35

CM

|

Arsenal

80

82

2,164

46.

80

82

2,123

47.

Bryan Cristante

#4

CM

|

Roma

80

81

2,049

48.

J. Henderson

#14

CM

|

Liverpool

80

80

2,158

49.

G. Wijnaldum

#25

CM

|

Roma

80

80

2,186

50.

Éver Banega

#10

CM

|

Al Shabab

80

80

2,120

51.

Saúl

#17

CM

|

Atlético de Madrid

80

80

2,150

52.

C. Tolisso

#88

CM

|

Olympique Lyonnais

80

80

2,167

53.

Fred

#17

CM

|

Manchester United

80

80

2,189

54.

80

80

2,090

55.

F. Coquelin

#19

CM

|

Villarreal CF

80

80

2,119

56.

80

80

2,139

57.

Hans Vanaken

#20

CM

|

Club Brugge KV

80

80

2,008

58.

Joan Jordán

#8

CM

|

Sevilla FC

80

80

2,062

59.

79

85

2,114

60.

Manuel Ugarte

#15

CM

|

Sporting CP

79

85

1,950

61.

Zubimendi

#3

CM

|

Real Sociedad

79

85

2,023

62.

79

82

2,017

63.

Moe Bumbercatch

#21

CM

|

AFC Richmond

79

82

2,042

64.

Dani Ceballos

#19

CM

|

Real Madrid CF

79

81

2,045

65.

79

81

2,102

66.

79

80

2,070

67.

79

80

2,104

68.

Marek Hamšík

#17

CM

|

Trabzonspor

79

79

2,101

69.

Wataru Endo

#3

CM

|

VfB Stuttgart

79

79

2,021

70.

Kevin Kampl

#44

CM

|

RB Leipzig

79

79

2,038

71.

79

79

2,129

72.

Remo Freuler

#23

CM

|

Nottingham Forest

79

79

2,038

73.

Roberto Pereyra

#37

CM

|

Udinese Calcio

79

79

2,119

74.

79

79

2,150

75.

Sérgio Oliveira

#27

CM

|

Galatasaray SK

79

79

2,114

76.

N. Maksimović

#20

CM

|

Getafe CF

79

79

2,039

77.

Conor Gallagher

#23

CM

|

Chelsea

78

85

2,050

78.

Weston McKennie

#8

CM

|

Juventus

78

83

2,195

79.

Douglas Luiz

#6

CM

|

Aston Villa

78

83

2,083

80.

78

83

1,990

81.

Joey Veerman

#23

CM

|

PSV

78

83

2,023

82.

Amadou Haidara

#8

CM

|

RB Leipzig

78

82

2,071

83.

Sofyan Amrabat

#34

CM

|

Fiorentina

78

81

2,066

84.

Hidemasa Morita

#5

CM

|

Sporting CP

78

79

1,972

85.

Héctor Herrera

#16

CM

|

Houston Dynamo

78

78

2,082

86.

Matias Vecino

#5

CM

|

Lazio

78

78

2,071

87.

78

78

2,071

88.

Daniel Wass

#10

CM

|

Brøndby IF

78

78

2,144

89.

G. Bonaventura

#5

CM

|

Fiorentina

78

78

2,145

90.

Óliver Torres

#21

CM

|

Sevilla FC

78

78

1,980

91.

John McGinn

#7

CM

|

Aston Villa

78

78

2,131

92.

Manu Trigueros

#14

CM

|

Villarreal CF

78

78

2,036

93.

Campaña

#24

CM

|

Levante Unión Deportiva

78

78

2,082

94.

Arturo Inálcio

#19

CM

|

Flamengo

78

78

1,914

95.

Rade Krunić

#33

CM

|

AC Milan

78

78

2,102

96.

Nicolò Rovella

#6

CM

|

AC Monza

77

86

2,086

97.

Moncayola

#7

CM

|

CA Osasuna

77

83

1,949

98.

N. Domínguez

#8

CM

|

Bologna

77

83

2,025

99.

Niklas Dorsch

#30

CM

|

FC Augsburg

77

82

2,076

100.

K. Dewsbury-Hall

#22

CM

|

Leicester City

77

81

2,040
Find a Player's FIFA Rating