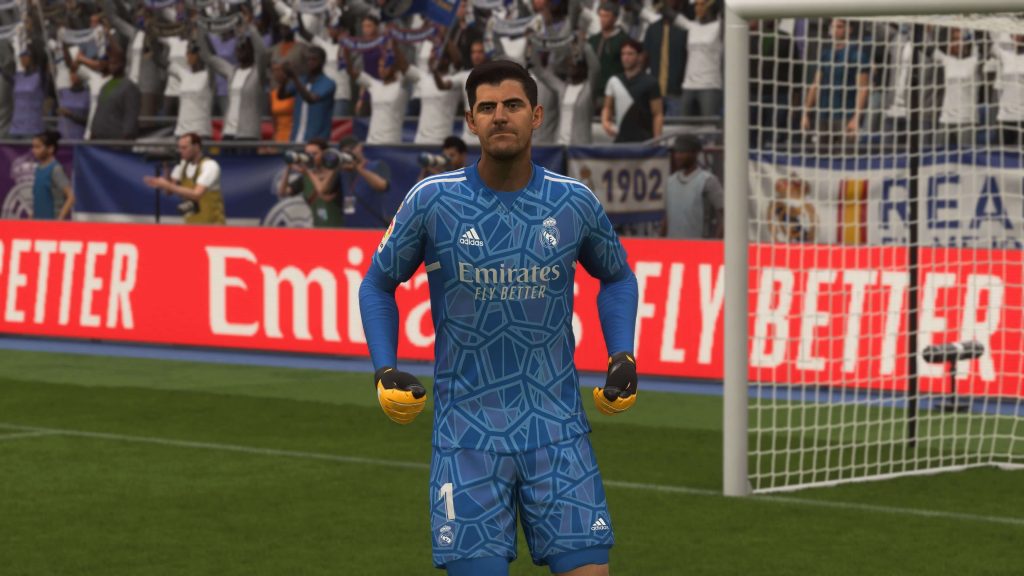 The Highest-rated Goalkeeper on FIFA 23
List of Top 100 Goalkeepers in FIFA 23
A Goalkeeper (GK) is a designated player directly in charge in preventing the opposing team from scoring by blocking or intercepting opposing shots on goal.
Among the Goalkeeper on FIFA 23, Thibaut Courtois has the highest rating followed by Manuel Neuer in second and Jan Oblak in third.
Below are the Top 100 Players whose Best Position is Goalkeeper on FIFA 23.
#
Player
OVA
POT
STATS
1.

T. Courtois

#1

GK

|

Real Madrid CF

90

91

1,334

2.

90

90

1,534

3.

Jan Oblak

#13

GK

|

Atlético de Madrid

89

91

1,405

4.

Ederson

#31

GK

|

Manchester City

89

91

1,582

5.

89

90

1,437

6.

88

92

1,375

7.

M. ter Stegen

#1

GK

|

FC Barcelona

88

89

1,443

8.

88

88

1,427

9.

Mike Maignan

#16

GK

|

AC Milan

87

90

1,496

10.

De Gea

#1

GK

|

Manchester United

87

87

1,416

11.

Édouard Mendy

#16

GK

|

Chelsea

86

87

1,234

12.

86

86

1,387

13.

W. Szczęsny

#1

GK

|

Juventus

86

86

1,316

14.

86

86

1,254

15.

86

86

1,358

16.

Péter Gulácsi

#1

GK

|

RB Leipzig

85

85

1,305

17.

84

88

1,258

18.

Koen Casteels

#1

GK

|

VfL Wolfsburg

84

85

1,301

19.

E. Martínez

#1

GK

|

Aston Villa

84

84

1,457

20.

Yassine Bounou

#13

GK

|

Sevilla FC

84

84

1,269

21.

84

84

1,282

22.

83

86

1,311

23.

S. Handanovič

#1

GK

|

Inter

83

83

1,259

24.

K. Schmeichel

#1

GK

|

OGC Nice

83

83

1,339

25.

83

83

1,267

26.

Aaron Ramsdale

#32

GK

|

Arsenal

82

86

1,396

27.

André Onana

#24

GK

|

Inter

82

85

1,468

28.

Jordan Pickford

#1

GK

|

Everton

82

84

1,504

29.

Álex Remiro

#1

GK

|

Real Sociedad

82

84

1,296

30.

82

82

1,187

31.

Gerónimo Rulli

#13

GK

|

Villarreal CF

82

82

1,336

32.

82

82

1,377

33.

Nick Pope

#22

GK

|

Newcastle United

82

82

1,288

34.

David Soria

#13

GK

|

Getafe CF

82

82

1,280

35.

Lucas Mantela

#1

GK

|

Palmeiras

82

82

1,297

36.

Diogo Costa

#99

GK

|

FC Porto

81

87

1,195

37.

81

84

1,337

38.

O. Vlachodimos

#99

GK

|

SL Benfica

81

83

1,258

39.

Alphonse Areola

#13

GK

|

West Ham United

81

82

1,399

40.

81

82

1,337

41.

Juan Musso

#1

GK

|

Atalanta

81

82

1,222

42.

Simon Mignolet

#22

GK

|

Club Brugge KV

81

81

1,310

43.

Rui Patrício

#1

GK

|

Roma

81

81

1,362

44.

Adán

#1

GK

|

Sporting CP

81

81

1,324

45.

81

81

1,292

46.

Neto

#13

GK

|

AFC Bournemouth

81

81

1,323

47.

Alban Lafont

#1

GK

|

FC Nantes

80

85

1,259

48.

D. Livaković

#40

GK

|

Dinamo Zagreb

80

83

1,323

49.

80

83

1,422

50.

Walter Benítez

#1

GK

|

PSV

80

82

1,281

51.

J. Ledesma

#1

GK

|

Cádiz CF

80

82

1,266

52.

U. Çakır

#1

GK

|

Trabzonspor

80

82

1,344

53.

Rui Silva

#13

GK

|

Real Betis Balompié

80

82

1,220

54.

Edgar Badia

#13

GK

|

Elche CF

80

81

1,257

55.

J. Cillessen

#22

GK

|

N.E.C. Nijmegen

80

80

1,319

56.

Bernd Leno

#17

GK

|

Fulham

80

80

1,335

57.

F. Muslera

#1

GK

|

Galatasaray SK

80

80

1,362

58.

Andrea Consigli

#47

GK

|

80

80

1,200

59.

David Ospina

#41

GK

|

Al Nassr

80

80

1,203

60.

Stefan Ortega

#18

GK

|

Manchester City

80

80

1,400

61.

80

80

1,308

62.

80

80

1,265

63.

80

80

1,224

64.

Héniton Pires

#1

GK

|

Flamengo

80

80

1,264

65.

M. Dmitrović

#1

GK

|

Sevilla FC

80

80

1,299

66.

Agustín Rossi

#1

GK

|

Boca Juniors

79

83

1,303

67.

G. Vicario

#13

GK

|

Empoli

79

83

1,066

68.

79

82

1,298

69.

Alex Meret

#1

GK

|

Napoli

79

82

1,215

70.

79

81

1,358

71.

79

80

1,246

72.

Mattia Perin

#36

GK

|

Juventus

79

80

1,245

73.

Alessio Cragno

#89

GK

|

AC Monza

79

80

1,215

74.

79

80

1,226

75.

Steve Mandanda

#30

GK

|

Stade Rennais FC

79

79

1,278

76.

79

79

1,488

77.

Diego López

#13

GK

|

Rayo Vallecano

79

79

1,200

78.

Guaita

#13

GK

|

Crystal Palace

79

79

1,376

79.

Lars Unnerstall

#1

GK

|

FC Twente

79

79

1,103

80.

M. Dúbravka

#31

GK

|

Manchester United

79

79

1,331

81.

Gabri Prestão

#16

GK

|

Internacional

79

79

1,191

82.

Emelvinson

#1

GK

|

RB Bragantino

79

79

1,187

83.

79

79

1,351

84.

79

79

1,479

85.

79

79

1,232

86.

Franco Armani

#1

GK

|

River Plate

79

79

1,291

87.

79

79

1,248

88.

Justin Bijlow

#1

GK

|

Feyenoord

78

85

1,230

89.

G. Mamardashvili

#25

GK

|

Valencia CF

78

84

1,082

90.

Luís Maximiano

#1

GK

|

Lazio

78

84

1,179

91.

78

83

1,212

92.

A. Bayındır

#1

GK

|

Fenerbahçe SK

78

82

1,154

93.

78

82

1,292

94.

P. Rajković

#1

GK

|

RCD Mallorca

78

81

1,060

95.

Emil Audero

#1

GK

|

U.C. Sampdoria

78

81

1,188

96.

78

80

1,212

97.

J. Staněk

#36

GK

|

FC Viktoria Plzeň

78

80

1,128

98.

Ivan Provedel

#94

GK

|

Lazio

78

79

1,241

99.

Sergio Herrera

#1

GK

|

CA Osasuna

78

79

1,234

100.

78

78

1,251
Find a Player's FIFA Rating