Argentina National Football Team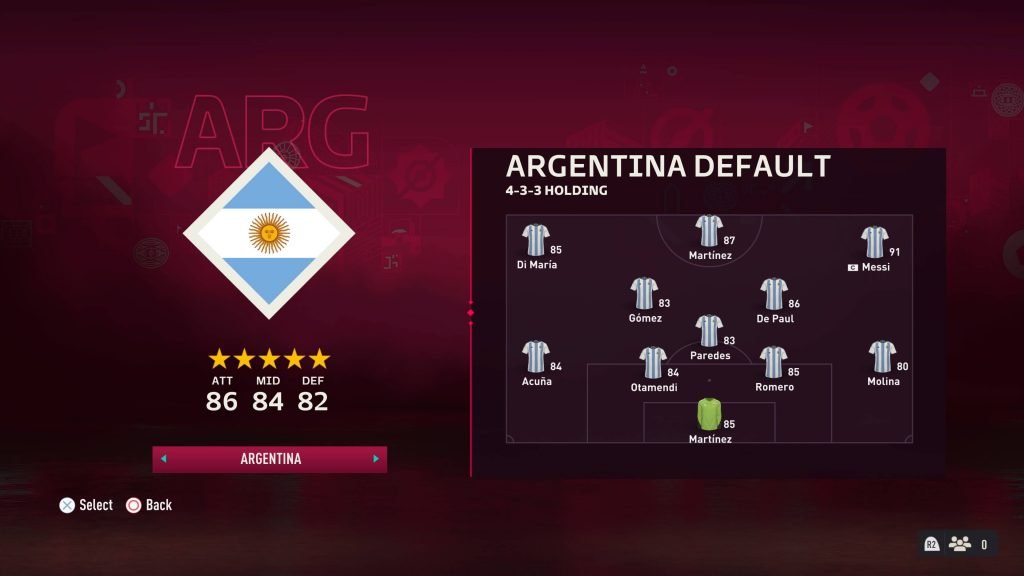 The Argentina National Football Team on FIFA 23
Argentina National Football Team on FIFA 23
The Argentina National Football Team is an International Team playable in FIFA 23 with Lionel Messi having the highest Overall followed by Lautaro Martínez in second and Paulo Dybala in third.
Argentina National Football Team in FIFA World Cup 2022
Argentina, the 1978 and 1986 champions, will aim to add a third FIFA World Cup Trophy to their cabinet. "La Albiceleste" are on a roll after winning the 2021 Copa América against eternal rivals Brazil and later defeating European champions Italy at the 2022 Finalissima under the leadership of star captain Lionel Messi.
World Cup Best Result: Winner in 1978 and 1986
Below is the full roster of the Argentina National Football Team with their corresponding Overall, Potential and Total Stats on FIFA 23.
#
Player
OVA
POT
STATS
1.

Lionel Messi

#10 RW |

Paris Saint-Germain

91

91

2,190

2.

L. Martínez

#22 ST |

Inter

86

90

2,163

3.

Paulo Dybala

#21 SUB |

Roma

86

86

2,108

4.

Marcos Acuña

#8 LB |

Sevilla FC

85

85

2,304

5.

Á. Di María

#11 LW |

Juventus

84

84

2,148

6.

A. Gómez

#17 CM |

Sevilla FC

84

84

2,035

7.

E. Martínez

#23 GK |

Aston Villa

84

84

1,457

8.

R. De Paul

#7 CM |

Atlético de Madrid

84

84

2,237

9.

Cristian Romero

#13 CB |

Tottenham Hotspur

83

88

1,872

10.

L. Martínez

#25 SUB |

Manchester United

82

87

2,145

11.

Gerónimo Rulli

#12 SUB |

Villarreal CF

82

82

1,336

12.

G. Rodríguez

#18 SUB |

Real Betis Balompié

81

82

1,912

13.

N. Otamendi

#19 CB |

SL Benfica

81

81

1,902

14.

N. Tagliafico

#3 SUB |

Olympique Lyonnais

81

81

2,071

15.

Enzo Fernández

#24 SUB |

SL Benfica

80

87

2,169

16.

N. González

#15 SUB |

Fiorentina

80

85

1,971

17.

Leandro Paredes

#5 CDM |

Juventus

80

80

2,145

18.

Joaquín Correa

#16 SUB |

Inter

80

80

1,963

19.

J. Álvarez

#9 SUB |

Manchester City

79

86

2,124

20.

Juan Foyth

#2 RES |

Villarreal CF

79

84

1,929

21.

Gonzalo Montiel

#4 SUB |

Sevilla FC

79

81

2,046

22.

Franco Armani

#1 SUB |

River Plate

79

79

1,291

23.

Nahuel Molina

#26 RB |

Atlético de Madrid

78

84

2,033

24.

E. Palacios

#14 RES |

Bayer 04 Leverkusen

78

83

2,063

25.

A. Mac Allister

#20 RES |

Brighton & Hove Albion

77

82

2,093

26.

G. Pezzella

#6 SUB |

Real Betis Balompié

76

76

1,638
Argentina National Football Team FIFA 23 Roster Gallery
Find a Player's FIFA Rating