Portugal National Football Team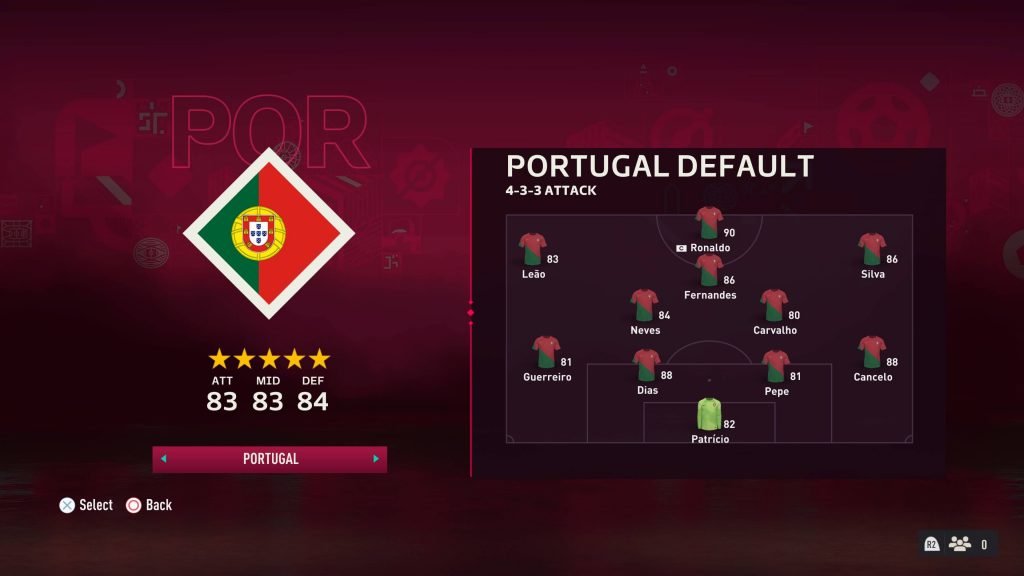 The Portugal National Football Team on FIFA 23
Portugal National Football Team on FIFA 23
The Portugal National Football Team is an International Team playable in FIFA 23 with Rúben Santos Gato Alves Dias having the highest Overall followed by Cristiano Ronaldo in second and João Pedro Cavaco Cancelo in third.
Portugal National Football Team in FIFA World Cup 2022
The "Selecão das Quinas" is making its eighth appearance at a FIFA World Cup in 2022, and have now qualified to the final tournament for the sixth consecutive time. During their first participation in 1966 Portugal notably finished third, with their iconic forward Eusébio ending the tournament on an incredible total of nine goals.
World Cup Best Result: Third place in 1966
Below is the full roster of the Portugal National Football Team with their corresponding Overall, Potential and Total Stats on FIFA 23.
#
Player
OVA
POT
STATS
1.

Rúben Dias

#4 CB |

Manchester City

88

91

1,894

2.

Cristiano Ronaldo

#7 ST |

Al Nassr

88

88

2,114

3.

João Cancelo

#20 RB |

Manchester City

88

88

2,260

4.

Bernardo Silva

#10 RW |

Manchester City

88

88

2,200

5.

Bruno Fernandes

#8 CAM |

Manchester United

86

86

2,302

6.

Rafael Leão

#15 LW |

AC Milan

84

90

1,971

7.

João Félix

#11 SUB |

Atlético de Madrid

83

89

2,102

8.

Rúben Neves

#18 CM |

Wolverhampton Wanderers

83

86

2,178

9.

André Silva

#9 SUB |

RB Leipzig

82

83

2,067

10.

R. Guerreiro

#5 LB |

Borussia Dortmund

82

82

2,177

11.

82

82

2,123

12.

Diogo Costa

#22 SUB |

FC Porto

81

87

1,195

13.

81

83

2,019

14.

José Sá

#12 SUB |

Wolverhampton Wanderers

81

82

1,337

15.

81

81

1,883

16.

Rui Patrício

#1 GK |

Roma

81

81

1,362

17.

João Mário

#17 SUB |

SL Benfica

81

81

2,122

18.

William Carvalho

#14 CM |

Real Betis Balompié

81

81

1,964

19.

Ricardo Horta

#21 SUB |

SC Braga

81

81

2,074

20.

Nuno Mendes

#19 SUB |

Paris Saint-Germain

80

88

2,065

21.

Diogo Dalot

#2 RES |

Manchester United

80

86

2,089

22.

Danilo Pereira

#13 SUB |

Paris Saint-Germain

80

80

1,983

23.

Vitinha

#16 SUB |

Paris Saint-Germain

79

89

2,007

24.

Matheus Nunes

#23 SUB |

Wolverhampton Wanderers

79

86

2,109

25.

Gonçalo Ramos

#26 RES |

SL Benfica

78

86

1,939

26.

António Silva

#24 RES |

SL Benfica

75

87

1,701
Portugal National Football Team FIFA 23 Roster Gallery
Find a Player's FIFA Rating