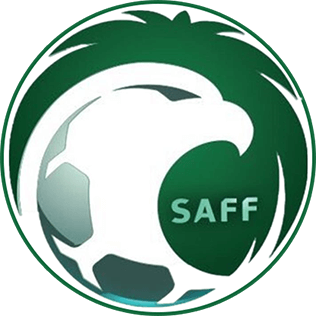 Saudi Arabia National Football Team
The Saudi Arabia National Football Team on FIFA 23
Saudi Arabia National Football Team on FIFA 23
The Saudi Arabia National Football Team is an International Team playable in FIFA 23 with Salem Al Dawsari having the highest Overall followed by Salman Al Faraj in second and Yasser Al Shahrani in third.
Saudi Arabia National Football Team in FIFA World Cup 2022
The first time Saudi Arabia qualified for a FIFA World Cup was the 1994 competition held in the USA. In need of a point from the last group match in Washington, D.C. against favourites Belgium, Saeed Al Owairan took the ball shortly after kick-off and beat half the opposing team to score the only goal, taking his country to the second round.
World Cup Best Result: Round of 16 in 1994
Below is the full roster of the Saudi Arabia National Football Team with their corresponding Overall, Potential and Total Stats on FIFA 23.
#
Player
OVA
POT
STATS
1.

S. Al Dawsari

#10 LM |

Al Hilal

76

76

2,012

2.

Salman Al Faraj

#7 CAM |

Al Hilal

74

74

2,000

3.

Y. Al Shahrani

#13 LB |

Al Hilal

73

73

1,925

4.

S. Al Ghannam

#2 SUB |

Al Nassr

72

72

1,923

5.

Saud Abdulhamid

#12 RB |

Al Hilal

71

77

1,774

6.

A. Al Amri

#4 CB |

Al Nassr

71

76

1,588

7.

Mohammed Kanno

#23 CDM |

Al Hilal

71

71

1,957

8.

Nawaf Al Abed

#18 RES |

Al Shabab

70

70

1,773

9.

M. Al Buraik

#6 SUB |

Al Hilal

70

70

1,898

10.

Sami Al Najai

#16 SUB |

Al Nassr

69

72

1,803

11.

A. Al Malki

#8 SUB |

Al Hilal

69

70

1,820

12.

Hattan Bahebri

#19 RM |

Al Shabab

69

69

1,829

13.

M. Al Owais

#21 GK |

Al Hilal

68

68

1,161

14.

Saleh Al Shehri

#11 ST |

Al Hilal

68

68

1,635

15.

Hassan Tombakti

#17 SUB |

Al Shabab

67

76

1,467

16.

N. Al Dawsari

#24 SUB |

Al Hilal

67

75

1,823

17.

Ali Al Bulayhi

#5 SUB |

Al Hilal

67

67

1,464

18.

A. Al Obud

#20 RES |

Al Ittihad

67

67

1,687

19.

Abdullah Ateef

#14 SUB |

Al Hilal

67

67

1,625

20.

F. Al Birekan

#9 SUB |

Al Fateh

66

77

1,507

21.

M. Al Rubaie

#1 SUB |

Free Agency

66

72

1,245

22.

Ali Al Hassan

#15 RES |

Al Nassr

66

71

1,718

23.

Abdullah Madu

#3 CB |

Al Nassr

66

67

1,360

24.

R. Sharahili

#26 CDM |

Abha Club

66

66

1,638

25.

Haitham Asiri

#25 SUB |

Free Agency

61

73

1,498

26.

Nawaf Al Aqidi

#22 SUB |

Al Nassr

61

67

927
Saudi Arabia National Football Team FIFA 23 Roster Gallery
Find a Player's FIFA Rating